ZZ Top tickets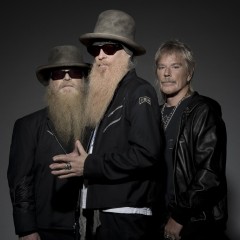 Inducted into the Rock and Roll Hall of Fame in 2004, ZZ Top has been playing their distinctive brand of blues-inspired rock for over 40 years. With legendary status long since achieved and respect and love assured from their peers and legions of fans, the band continue to tour the world – and now they are returning to the UK for a one-off show at London's SSE Arena, with ZZ Top tickets available right here at Gigantic.

Formed in Houston, Texas in 1969 ZZ Top's line up has never changed, with lead vocalist and guitarist Billy Gibbons, drummer Frank Beard and bass player Dusty Hill still flying the flag today – with beards firmly intact! Their career numbers are staggering, with 11 gold records, seven platinum records and over 50 million albums sold globally. But the band is far more than just a moneymaking machine. Continuing to write and record, with 2012's La Futura their latest full-length release, ZZ Top show no obvious signs of slowing down – with a string of 2015 ZZ Top tour dates as proof.

ZZ Top concerts remain something of a pilgrimage for their millions of fans – the chance to see the boys do what they do best. Live the band are unapologetically loud, with decades of material at their fingertips to ensure that everyone present has a good time – Texas style. Witnessing ZZ Top play live also confirms their mastery of their sound and their instruments – after all, someone as legendary as Keith Richards doesn't provide a Rock and Roll Hall of Fame induction speech for any old band!

Their current U.S tour sees them traversing the country, from California to Florida, with their solo London date providing a break from playing to a home grown audience. The SSE Arena Wembley capacity of 12,500 will surely make for a memorable atmosphere – but even a venue of this size will sell out quickly when a band of ZZ Top's magnitude are concerned. For a chance to see that little ol' band from Texas on their only 2015 UK date don't delay – purchase your tickets today from Gigantic.

Sorry we currently have no dates available for ZZ Top.