Theatre Of Hate tickets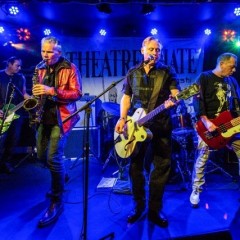 The vitally important post punk band Theatre Of Hate are back to perform their seminal material live. Formed in 1980 by Kirk Brandon out of the remnants of previous punk band The Pack. They announced their arrival with the release of the double A-side single Legion/Original Sin which topped the independent charts within their first year.

Their debut album was entitled Westworld and released in 1982. Produced by Mick Jones from The Clash, the album stayed at the top of the independent charts for twenty one weeks. It featured their hit singe Do You Believe In The Westworld? The single is a huge anthem and is frequently played in clubs and across radio stations around the world whilst also featuring on many compilation albums.

They benefitted from supporting such big names as Spizz Energi, Ian Dury and The Clash to become a main headline act themselves. However, the band would implode in 1982 with Brandon going on to form Spear Of Destiny.

Theatre Of Hate would reunite for special one-off shows over a number of occasions. They would also release a number of albums including Ten Years After (1993), Retribution (1996) and Aria Of The Devil (1998). These would accompany the live albums that dominated the independent charts upon their release. Last year they self released their latest studio album entitled Kinshi.

Theatre Of Hate tickets are available through Gigantic right now but will sell quickly so book yours before they are gone. Book today to witness an important piece of rock music history!

They take over Moon On The Water at Cleethorpes in July and Waterfront Studio during November 2018.

Offering great customer service on a long list of essential gig tickets, Gigantic should always be your first stop when booking your big night out.

Theatre Of Hate
+ Support
Waterfront Studio, Norwich
Wed, 28 Nov 2018
Doors at 19:30
Theatre Of Hate

Thu, 13 Dec 2018
Doors at 18:30
Theatre Of Hate

Chinnerys, Southend, Southend on Sea
Fri, 14 Dec 2018
Doors at 19:00