The Soft Moon tickets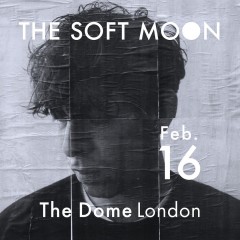 Dark and hypnotic, beguiling and dystopic, The Soft Moon is the dark electronica of Luis Vasquez. See him play a massive headline gig at Scala London on Wednesday 28th of November 2018.

The Soft Moon tickets are on sale right now. Having exploded onto the scene they are blowing away every audience who return in even great numbers so book yours before they are all gone.





The one-man project of Luis Vasquez, the Soft Moon gives the darkly hypnotic sounds of Suicide, Joy Division, Bauhaus, and Krautrock new life with a stripped-down approach. Vasquez is also inspired by his Afro-Cuban heritage and the wide-open spaces of the Mojave Desert where he was raised. While working in San Francisco, Vasquez released his first single, Breathe the Fire, on Captured Tracks in March 2010. That September, Parallels followed, and the Soft Moon's self-titled debut album appeared in November. Darker still was the Total Decay EP, which arrived in late October 2011. Vasquez continued to write songs while on the road, and enlisted the help of engineer/producer Monte Vallier to turn them into the streamlined tracks that appeared on 2012's Zeros.

After touring in support of the album, Vasquez moved to Venice, Italy, using the solitude and his status as a foreigner as inspiration for a set of songs that explored despair and healing. Working with producer Maurizio Baggio at Hate Studios, Vasquez honed his singing and songwriting to produce 2015's Deeper, the Soft Moon's most emotional album yet. A pair of remix EPs featuring work by Ancient Methods, Trentemøller, and Blush Response arrived early the following year. For the Soft Moon's third album, Criminal, Vasquez reunited with Baggio and built on the confessional territory of Deeper as he explored his abusive childhood and its aftermath. Sacred Bones released the album in 2018.

Gigantic is the very best place to book your The Soft Moon concert tickets because our award-winning customer service team are ready to help with your every enquiry when selecting from our enormous selection of essential gig tickets. But with only limited supplies for any show being made available, we do urge you to place your order before they are all snatched up.

Remember, Gigantic should always be your first choice whenever you are planning your big night out!



The Soft Moon

Wed, 28 Nov 2018
Doors at 19:30