The Pearl Harts tickets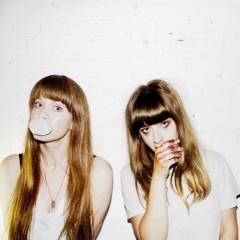 Blues rock pairing The Pearl Harts have burst onto the scene with the release of their debut single Skeleton Made Of Diamonds. Eager to before live audiences, they have been booked to make a headline appearance at The Lexington in London on Tuesday 25th of September 2018.

"Skeleton Made Of Diamonds is our debut single. The lyrics were originally inspired by a friend who survived a pretty horrific accident - we said at the time his skeleton must be made of diamond because he seemed indestructible! The song is all about invincibility and strength in the face of adversity. Musically it's got everything of a signature Pearl Harts song: fat bluesy riffs, pounding drums and blended harmonies. We shot the music video Abney Park Cemetery in Stoke Newington to create a British horror inspired short-film"

With the excitement building amongst fans, the demand for The Pearl Harts tickets is constantly growing so you will need to act fast and book yours before they all go. You can place your gig tickets order 24/7 using a tablet, computer or smartphone where ever you are; be it relaxing at home or busy and on the go.




"Loud, blues-driven rock music which thrills and appalls... The Pearl Harts have a visceral quality which is difficult to deny" - CLASH MAGAZINE

"The Pearl Harts â€" Warrior princesses glowering beneath spirit-level fringes, their seismic brand of heavy blues channels Led Zeppelin, Black Sabbath and trail blazing use of loops and samples…. early interviews have evoked the unguarded lip of Courtney Love" - TEAM ROCK

"How effing good are The Pearl Harts" Gemma Cairney" - BBC RADIO 1

"Bruising guitar licks and balls of steel with the girls exhibiting their no holds barred style of incinerating rock n' roll... " - ARTROCKER

"The two girls in The Pearl Harts kick ass.. they push out an unimaginable amount of noise for only having two people in the band... " - THE 405

We really do urge you to make sure you book your The Pearl Harts concert tickets early as they are expected to sell very quickly. Matching our vast array of essential gig tickets with excellent customer service, Gigantic was named by Nottingham Post as their 'Retail Business of the Year 2017', so you know we are best place to come to make your booking when looking forward to enjoying an unforgettable experience.

The Pearl Harts
Plus Special Guests
Tue, 25 Sep 2018
Doors at 19:30