The Dickies tickets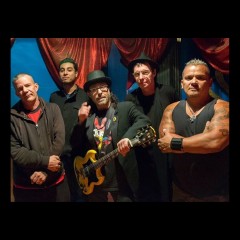 Punk rock pioneers The Dickies burst onto the LA scene in 1977. Their comic style is credited as being formative of what would become the massively popular sound of pop punk.

They celebrate their 40th Anniversary with exciting upcoming live dates. See them play headline performances at O2 Aacdemy2 Newcastle and Rescue Rooms in Nottingham during July, 2017.

All of The Dickies tickets will be released by 09:00 on Wednesday 22nd of February. Set your personal reminder with Gigantic right now. It will alert you via text message of email when they become available.

The Dickies endear themselves to worldwide audiences with their winningly campy and goofy sense of playful good humour that's a total radical departure from the often snotty and sarcastic attitude of your average punk band. They hold the distinction of being the first California punk group to both appear on network television (they pop up as themselves on an episode of the TV comedy series "CPO Sharkey") and be signed to a major record label. Besides such amusingly nutty original songs as "Hideous," "Waterslide," "Manny, Moe and Jack," "You Drive Me Ape (You Big Gorilla)," "Attack of the Mole Men," and "(I'm Stuck in a Pagoda With) Tricia Toyota," the Dickies have done insanely inspired covers of other artists' songs that include Black Sabbath's "Paranoid," "Nights in White Satin" by the Moody Blues (this particular cover was a Top 40 hit on the UK pop charts in 1979), Barry McGuire's "Eve of Destruction," and "Nobody But Me" by the Human Beinz. The band scored a Top 10 British radio hit in 1979 with their wacky rendition of the 70's Saturday morning cartoon TV series theme tune "Banana Splits (Tra La La Song).

We only have limited supplies of The Dickies concert tickets so book early or risk missing out on seeing the cult band play live. We are proud to offer you excellent customer service on a huge range of essential gig tickets so make Gigantic your first choice whenever you book your big night out.

The Dickies
+ Crashed Out
O2 Academy2 Newcastle, Newcastle Upon Tyne
Sat, 21 Jul 2018
Doors at 18:30