Sparks tickets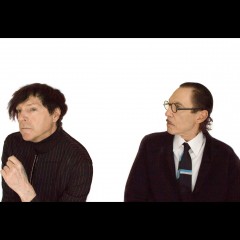 Led by singer Russell and key player Ron Mael, Sparks are the enigmatic pop pioneers that embody the brothers unique vision which has seen them rise to international notoriety and enjoy critical acclaim.

The musical mavericks fuse such wide spread influences as disco, art rock and power pop to create a sonic sphere they alone occupy.

With the upcoming release of twenty third studio album Hippopotamus, they have announced an exciting tour to promote the new material. Catch them when they play at Queens Hall in Edinburgh, O2 Manchester Ritz, iconic Nottingham venue Rock City, O2 Institute Birmingham, O2 Academy Bristol and O2 Shepherds Bush in London during September, 2017.

Sparks tickets are in high demand so you will need to act fast. Set a personal reminder with Gigantic so you are ready for their release of the extra date at 09:00 on Friday 28th of April with a text message or email to alert you when they become available.

The band has consistently moved in their own unmistakable way and burst into the public consciousness with the release of their debut album Halfnelson in 1971. They have consistently remained a dynamic creative force across the decades.

Their new album Hippopotamus was recorded under the beautiful summer skies of Los Angeles and is said to be a redefinition of pop in a direction only Sparks could follow. The title tracks will be unveiled at midnight on Friday 24th of March through BBC 6 Music.

We know everyone wants Sparks concert tickets, and with only limited supplies available you will need to book early or you may miss out. Gigantic is proud to have provided our customers with excellent customer service on a huge range of essential gig tickets for ten years so you know we are the right place to book your big night out.



Sorry we currently have no dates available for Sparks.