Revolution Pro Wrestling tickets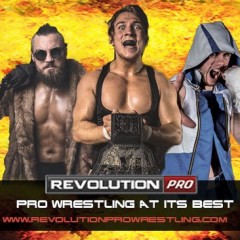 Revolution Pro Wrestling lives and dies by it's motto: Pro Wrestling at its best.

Launched in 2012 by matchmaker extraordinaire Andy Quildan the founder and former promoter of International Pro Wrestling: United Kingdom (IPW:UK). Quildan has gone on to form RPW to ensure the high standards of wrestling only he can provide.

The high octane action pushes way past the limits of IPW:UK and delivers even greater thrills, spills and athletic supremacy. See some of the biggest names in British wrestling do battle and perform some of the greatest feats ever seen in a ring.

There will be no love lost as grudges are fought, titles are won and names are made to the delight of thousands of excited fans around the country, and beyond!

Having their own dedicated training school of wrestling, RPW is on the cutting edge in training the next generation of combatants in pushing back the frontiers of what is possible. Smashing through the roof in terms of ambition, production values and sheer high quality wrestling.

No wonder the bouts are getting global attention with fans all around the world as the brand continues to grow.

Revolution Pro Wrestling will be touring the UK. First up, the Epic Encounter 2016 will commence on Saturday 16th of April at Reading Rivermead.

Next we have the Sittingbourne Spectacular 2016 on Sunday 17th of April in the UK Paper Leisure Club.

Also we have the impressive Summer Sizzler which will be taking place on Sunday 10th of July at York Hall in London.

Revolution Pro Wrestling tickets are on sale through Gigantic right now.

Revolution Pro Wrestling: Summer Sizzler 2018

Fri, 17 Aug 2018
Doors at 17:30
Revolution Pro Wrestling: Live In Southampton 4

Sun, 19 Aug 2018
Doors at 16:00
Revolution Pro Wrestling: Live In Leamington

The Assembly, Leamington Spa
Sat, 01 Sep 2018
Doors at 18:00
Revolution Pro Wrestling Live At The Cockpit 32

The Cockpit Theatre, London
Sun, 02 Sep 2018
Doors at 17:00
Revolution Pro Wrestling: International Wrestling TV Taping Night 1

Wed, 05 Sep 2018
Doors at 17:30
Revolution Pro Wrestling: International Wrestling TV Taping Night 2

Thu, 06 Sep 2018
Doors at 17:30
Revolution Pro Wrestling: Brawl at the Guildhall

Portsmouth Guildhall, Portsmouth
Fri, 07 Sep 2018
Doors at 18:30
Revolution Pro Wrestling: British J Cup 2018 Night 1

Bowlers Exhibition Centre, Manchester
Sat, 08 Sep 2018
Doors at 16:30
Revolution Pro Wrestling: British J Cup 2018 Night 2

Bowlers Exhibition Centre, Manchester
Sun, 09 Sep 2018
Doors at 12:30