Mighty Oaks tickets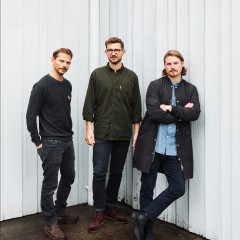 Alt rock trio Mighty Oaks are a melting pot of international constituent parts with members from all across the globe. The band members include mandolin and ukelele player American Ian Hooper who joined Italian pianist and Claudio Donzelli on guitar plus British bassist Craig Saunders. They are based in Berlin, Germany.

The three-piece is centred around an acoustic folk sound that sees all three members united in tight harmonics to incredible effect.

They hit the UK to play a awesome autumn shows. See them headline O2 Academy Islington in London and The Deaf Institute at Manchester during November 2017.

Gigantic has a handful of Mighty Oaks tickets on sale right now. Book yours before they are all gone.

The band was formed after the trio became friends in 2010, all sharing the common experience of being outsiders living in Germany. Meeting at a folk festival, they remained in touch and decided to work on music of their own, producing a self released EP a year later which was recorded in Hooper's bedroom. The release brought them a wide audience through the internet.

Their second release was the Just One Day EP which was picked up and distributed by Rough Trade Records. Now becoming a bit of a name, they began playing prominent support slots including opening for Kings Of Leon and Chvrches.

Their debut album Howl was a massive hit and rose to #10 on the German Billboard chart. It was followed by the release of the EP entitled Brother which sold well across America.

Given their rare appearances in the UK and just how truly great they are, Mighty Oaks concert tickets are in high demand and will sell out very quickly. Always make Gigantic your first choice to get the very best experience booking the gig tickets you need.

Sorry we currently have no dates available for Mighty Oaks.