Lucky Chops tickets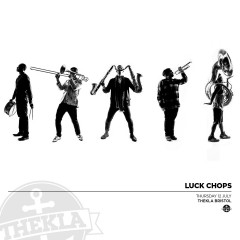 Lucky Chops are revolutionising the brass band and bursting on to the world scene. Having gone viral with their stunning internet videos, they look set to become absolutely massive.

The bold brass sound is brought to you by trumpeter Joshua Gawel, Leo P-Bari on sax, Daro Behroozi playing tenor sax, Josh Holcomb playing trombone, drummer Kevin Congelton and Raphael Buyo on sousaphone.

They delight all with the sheer magic of their live performance which electrifies the audience in every city they play. Make sure you get down to a show near you!

This year sees them head out on tour to play KOKO in London, Manchester Club Academy, Concorde 2 at Brighton and Bristol Thekla during July 2018.

We are very excited to be able to offer you Lucky Chops tickets so make sure you get yours before they all go. Gig ticket orders can be placed 24/7 using a smartphone, tablet or computer. With tickets coming on sale at 09:00 on Friday 20th of April, we advise you to set a personal reminder to alert you with a text message or an email when they become available.



The band earned their chops playing around the cool clubs of New York City where they were free to develop their style in front of an appreciative style. Massively talented and wildly creative, the band would explore all directions and began to draw on influences as wide ranging as the power of rock and then seamlessly slide into sounds based on dance music. Energetic and ever evolving, Lucky Chops made their name in the city that never sleeps.

Taking themselves from the late night stage literally to the underground, Lucky Chops started to reach an ever wider audience when they began to play the NYC subway. It took just one South American tourist to post their video of the audacious act to see the band's name fly around the world in March of 2015. They were soon being booked all over the globe.

The game changing brass band have started 2016 with a flying start having fostered a fantastic fanbase and amassed well over 40 million hits on their online videos. With word of the amazing band spreading across the internet like wildfire their name is proceeding them ensuring their gigs are packed with excited fans.

The excitement continues to build and we expect Lucky Chops concert tickets to sell very fast. Plus, with only limited amounts being put on sale by the event organisers, you will have to act quickly and place your booking before they all go. If you have any questions, then contact our dedicated customer service team who can assist with every question when selecting from our huge range of essential gig tickets. Remember, award winning ticket vendor Gigantic is the very best place to come to make a stress-free booking before enjoying your big night out.
Sorry we currently have no dates available for Lucky Chops.