KRS One tickets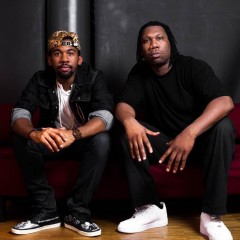 KRS One announce their massive UK shows for October 2018, including:

O2 Academy2 Sheffield // Waterfront, Norwich // O2 Institute2 Birmingham // Lemon Grove, Exeter // O2 Academy2 Newcastle // Manchester Club Academy

Everyone is after KRS One tickets, so with the demand so high you will need to make sure you book yours quickly as they will go. Gigantic makes selecting and booking your chosen gig tickets easy by enabling you access to our site 24/7 using your computer, smartphone or tablet from the comfort of your home or whilst you are busy and on the go.

With more and more people discovering the thrill of live music, it is becoming even more important to be ready for the release of your favourite tickets. Set a personal reminder with Gigantic so we can send you a text message or an email just prior to when KRS One gig tickets are made available at 17:00 on Wednesday 8th of August.


KRS-One (born Kris Parker) was the leader of Boogie Down Productions, one of the most influential hardcore hip-hop outfits of the '80s. At the height of his career, roughly 1987-1990, KRS-One was known for his furiously political and socially conscious raps, which is the source of his nickname, "the Teacher." Around the time of 1990's Edutainment, BDP's audience began to slip as many fans thought his raps were becoming preachy. As a reaction, KRS-One began to re-establish his street credibility with harder, sparer beats and raps. 1992's Sex and Violence was the first sign that he was taking a harder approach, one that wasn't nearly as concerned with teaching. KRS-One's first solo album, 1993's Return of the Boom Bap, was an extension of the more direct approach of Sex and Violence, yet it didn't halt his commercial decline. Still, he forged on with a high-quality self-titled 1995 effort and 1996's Battle for Rap Supremacy, a joint effort with his old rival MC Shan. After 1997's I Got Next, he put his solo career on hiatus for several years, finally returning in early 2001 with The Sneak Attack. The following year brought two full releases: the gospel effort Spiritual Minded and The Mix Tape, the latter including a single ("Ova Here") that stood as a response to Nelly, only the latest hip-hop figure to feud with the Blastmaster. In 2003 KRS-One released two albums, Kristyles and D.I.G.I.T.A.L., while the next year brought only one, Keep Right. In 2006 Life came out on the small, California-based Antagonist Records. The following year KRS-One reunited with Marley Marl to create Hip Hop Lives, an attempt to preserve the golden age of hip-hop. His 2012 effort, The BDP Album, was nostalgia from a different angle, reuniting the rapper with former BDP DJ Kenny Parker.

As you would expect, there is a limit on how many KRS One concert tickets being made available by promoters. So, do not hang around and place your booking before they all get snatched up! Gigantic is passionate about ensuring you have the very best experience and we should always be your first choice whenever you are looking to book for your big night out!

KRS One
Plus DJ Predator Prime
O2 Academy2 Sheffield, Sheffield
Sun, 14 Oct 2018
Doors at 19:00
KRS One

Tue, 16 Oct 2018
Doors at 19:30
KRS One
Plus DJ Predator Prime
O2 Institute2 Birmingham, Birmingham
Thu, 18 Oct 2018
Doors at 19:00
KRS One

Lemon Grove, Exeter, Exeter
Fri, 19 Oct 2018
Doors at 19:30
KRS One
Plus DJ Predator Prime
O2 Academy2 Newcastle, Newcastle Upon Tyne
Sun, 21 Oct 2018
Doors at 19:00
KRS One

Manchester Club Academy, Manchester
Sat, 27 Oct 2018
Doors at 19:00