Joe Bonamassa tickets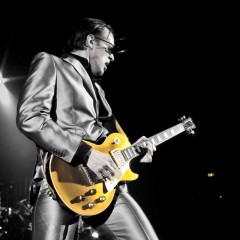 Joe Bonamassa is perhaps the best kept secret in blues having opened for the legendary B.B. King whilst still a twelve-year-old child and formed musical partnerships with the likes of Eric Clapton and Steve Winwood, yet still has yet to become a household name. But for those in the know he becomes somewhat of a passion.

Having been born in New York during 1977, his prolific efforts have culminated in to a rich back catalogue which includes the Grammy Award nomination for his collaborative album with Beth Hart; SeeSaw. Recent years have seen an exceptionally high amount of output with the release of two albums; Live In Amsterdam and Different Shades Of Blue, in a single year during 2014. The following year saw the release of Muddy Wolf at Red Rocks and in March of 2016 he released his twelve studio album; Blues Of Desperation.

Joe certainly believes in giving something back, and as well as a punishing touring and recording schedule he also finds time to be actively involved in a not-for-profit organisation called the "Keeping The Blues Alive Foundation". Their aim is to help fund scholarships and educational musical resources for underprivileged youngsters and their schools.

Funnily enough, Joe cites British and Irish blues performers as his major influences, rather than his fellow Americans, in particular John Mayall, Eric Clapton and Stevie Ray Vaughan. However, he does acknowledge that the legends of the genre in America, including B.B. King, are also a huge inspiration to his style and sound.

Fans can experience that sound on a clutch of albums, but without doubt the best way to hear Joe is live. Joe Bonamassa concert tickets sell out quickly, especially when there are only a limited number of UK gigs this year featuring the guitarist, so if you're a fan of hard-core blues then grab a ticket from Gigantic and see the man in action this year.

Joe Bonamassa tickets can be yours through Gigantic.

See him perform in Autumn when he heads out to play Plymouth Pavilions, Motorpoint Arena Nottingham and Bournemouth International Centre (BIC) during October of 2018.

Concert tickets are always limited and these two nights are truly special and expected to sell quickly so book early to avoid disappointment. Always stick with Gigantic for the best experience for gig tickets.

Joe Bonamassa

Plymouth Pavilions, Plymouth
Thu, 11 Oct 2018
Doors at 19:00
Joe Bonamassa

Motorpoint Arena Nottingham, Nottingham
Fri, 12 Oct 2018
Doors at 18:30
Joe Bonamassa

Bournemouth International Centre (BIC), Bournemouth
Sat, 13 Oct 2018
Doors at 19:00