Jethro tickets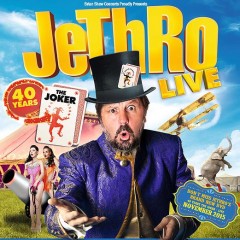 Cornish comedy legend Jethro is ready to take to the stage once again. The comedian has relentlessly toured the length and breadth of the land and become one of the best loved comedians to legions of loyal fans. Do not miss your chance to see the funny man perform live.

Although his televised appearances continue to be rare he fills a remarkable 250,000 seats every year with his live performances and continue to sells DVDs in their thousands. Catch him on his newly announced 40 Years The Joker Tour which take off next year.

He blasts off 2017 appearing at Guildhall in Gloucester and The Neon in Newport during February before performing at Princes Hall at Clevedon during March. Also, recently announced, are his dates at The Assembly in Leamington Spa during June plus a return to Princes Hall at Clevedon and Cardiff Tramshed in September.

Get your Jethro tickets through Gigantic. Ensure you book yours before they are gone.

After start life as a timber man in a tin mine Geoffrey J Rowe began his career in show business by singing traditional songs in the local Cornish songs. Discovering he was getting a few laughs along the way, he moved away from simply singing and started getting into comedy.

Jethro concert tickets are in limited supply so with such massively high demand we do urge you to book early or risk missing out. Gigantic always has the best selection for the gig tickets you need so stick with us for a fantastic experience!

Jethro - The Count of Cornwall

Mon, 29 Oct 2018
Doors at 19:00
Jethro: The Count of Cornwall

The Assembly, Leamington Spa
Thu, 13 Dec 2018
Doors at 19:00