Chvrches tickets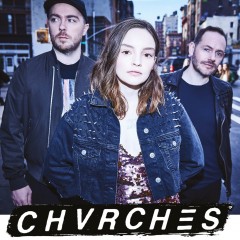 If you love driving fast with the windows rolled down playing top 40 radio at full volume and you play in a band, you usually have one goal: get your songs out of your garage and into the worlds' collective car speakers as soon as humanly possible. Lauren Mayberry, Iain Cook, and Martin Doherty certainly fit this bill. They unabashedly adore music of the wind-in-your-hair variety. And, of course, they play in a band, the Scottish synth pop group, CHVRCHES.

Next year sees them takeover the iconic Nottingham venue Rock City. Be there at Monday 11th of February for what will no doubt be one of the best ways to kick off 2019!

It is a really exciting time to be a fan of CHVRCHES, so get your tickets to see her with Gigantic! As more and more people find out, the demand for the gig tickets continues to rise and so you will need to get yours before they are all snatched up. Placing your gig ticket order is made easy as you can access our huge selection 24/7 using your smartphone, computer or tablet allowing you to book your big night out relaxing at home or busy and on the go!





Crafting songs with big synths and bigger hooks, Chvrches combine their roots in Glasgow's indie community -- the band features former members of Aerogramme and the Twilight Sad -- with a love of chart-friendly pop. They made an immediate impact on the music scene with 2013's bittersweet-yet-anthemic debut album The Bones of What You Believe, and later found ways of bringing an extra sheen to their music without sacrificing any of its depth. On 2018's Love Is Dead, their collaborators ranged from pop producer Greg Kurstin to the National's Matt Berninger.

Gigantic is the very best place to book your CHVRCHES concert tickets because our award-winning customer service team are ready to help with your every enquiry when selecting from our enormous selection of essential gig tickets. But with only limited supplies for any show being made available, we do urge you to place your order before they are all snatched up.
Chvrches

Mon, 11 Feb 2019
Doors at 19:00