Black Star Riders tickets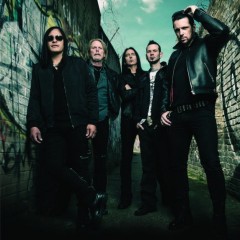 Hard rock band Black Star Riders consists of the surviving members of Thin Lizzy. Continuing to write and record their own original material, the band is an evolution from their origins and is the next chapter in the story of Thin Lizzy. The band members include drummer Jimmy DeGrasso, lead guitar from Scott Gorham and Damon Johnson with vocals from Ricky Warwick and Robbie Crane on bass. They are about to hit the road for an extensive UK tour to promote their upcoming album Heavy Fire.

The band began in May of 2010 when Gorham reunited with former Thin Lizzy members Downey and Wharton. Recruiting additional members, they hit the studio and began to demo new material. However, in respect to departed front Phil Lynott the decision was taken to work under the new moniker; Black Star Riders.

Their first album release came at the start of 2013 with All Hell Breaks Loose. Featuring new material and capturing the raw live sound, the album was a hit with critics and rose to #25 in the UK album charts. This was followed in 2015 by their second album The Killer Instinct which was even more successful hitting #13 in the charts.

Expected later in the year, their highly anticipated upcoming album will be called Heavy Fire.

Black Star Riders tickets will soon be available through Gigantic.

They hit the road to play a handful of unmissable shows during November of 2018, including Engine Rooms at Southampton and The Assembly in Leamington Spa.

We only have limited supplies of Black Star Riders concert tickets on sale so please book early or you risk missing out on seeing this incredible band perform live for yourself. We are proud to offer you excellent customer service on a huge range of essential gig tickets so make Gigantic your first choice whenever you book your big night out.

Black Star Riders

Engine Rooms, Southampton
Thu, 29 Nov 2018
Doors at 19:30
Black Star Riders

The Assembly, Leamington Spa
Fri, 30 Nov 2018
Doors at 19:00