Architects tickets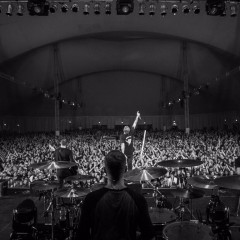 Architects are a metalcore band that consists of guitarist Adam Christianson, drummer Dan Searle, vocalist Sam Carter and Alex Edwin Dean on bass.

See them take over Alexandra Palace in London on Saturday 3rd of February 2018.

We are very pleased to offer you Architects tickets. With limitations on how many are being placed on sale, you will have to book before they all go. Order for gig tickets can be placed with Gigantic 24/7 using a smartphone, computer or tablet at home or whilst on the go.

Set a personal reminder right now so you can be alerted by Gigantic with a text message or an email when they become available at 10:00 on Thursday 31st of August, putting you ahead of all the rest.

The band originate from Brighton and was founded in 2004 by twin brothers Dan and Tom. Formally working under the title of Counting The Days until they adopted their current name. They played support for Beecher and Bring Me The Horizon to promote their debut album Nightmares, released in 2006.

They underwent massive line-up changes just months after the first albums release. The change in membership manifested into a change in style with their second album Ruin seeing the band move from screaming vocals towards a more hardcore punk approach which contributed towards the 2007 record having a more fluid metalcore feel.

In 2008 they signed a three album deal with Century Media Records enabling the band to extend their reach to a far wider audience. The first release under the new label would be Hollow Crown in 2009. A harsher record than its predecessors which resonated with rock magazine Kerrang! who awarded it KKKKK. The band continued to develop and adopted more of a live sound for the 2011 album The Here And Now.

The 2012 record Daybreaker featured more overtly politicised lyrics and a return to a more melodic sound the band is famed for. This continued with the 2014 album Lost Forever // Lost Together.
Their latest album All Our Gods Have Abandoned Us was released in May 2016. Recorded in Goethenburg, Sweden, and released by Epitaph Records, their seventh album features the songs Gone With The Wind and A Match Made In Heaven.

With only limited amounts of Architects concert tickets being made available, you will need to act fast and ensure you book yours before they are all snatched up. Having earnt a reputation for excellent customer service, thousands of gig goers know we are the very best place to secure your essential music tickets whenever you are planning your big night out.

Sorry we currently have no dates available for Architects.